Hundreds Stranded on Riverboat Cruise Trapped by Extremely Strong Currents
Hundreds of people had to be rescued from a cruise ship when it became stranded for several hours on a river in Canada.
Emergency services were called to assist those on board the Edmonton Riverboat on the evening of July 13 after a strong current in the opposing direction meant the vessel couldn't return to its dock in Rafter's Landing, Alberta, on the North Saskatchewan River.
"The boat was weighed down to the point where, even though it was going full-speed ahead, we were just matching the speed of the current and just floating in the same position," Hayden Wilson, whose company SmartDrones was filming a commercial for Edmonton Riverboat at the time, told CBC.
Three rescue boats from the Edmonton Fire Rescue Services began unloading more than 300 passengers and crew members from the cruise ship to safety at around 11:30 p.m.
As each rescue boat could only carry between six and 14 people at a time, it wasn't until around 5:30 a.m. that all passengers were safely removed from the ship.
Passengers described how the experience of being rescued from the ship was not as bad it could have been.
"It was actually okay," Melanie Marcoux told Global News. "They were very accommodating, and they did offer free food after a while. They were like, 'Yeah, hamburgers, hot dogs for everyone, we are really sorry.'"
"The bars were still open, so no one was too worried about it," fellow passenger Lori Anthony told CTV News Edmonton.
Wilson also praised the crew members for helping the keep the whole situation clam.
"The crew did a great job of establishing that there is no real danger, we're just fighting the current and can't get past it," he told CBC.
Edmonton Riverboat's Nova Andrews told Global News that this is the first time under his ownership the boat has become stuck during a journey down the river.
"Typically we do travel up to the Walterdale Bridge and back, it's just every once and a while we will have the right conditions to head down, and I think as we were heading down the conditions felt good, and as we were coming back in the later evening winds picked up and the current got a little faster," he said.
No one was injured during the incident. The boat remained docked mid-river near Accidental Beach the following day.
In a statement on Facebook, the Edmonton Riverboat said the 4 p.m. cruise on July 14 had been canceled "so the crew can have a rest."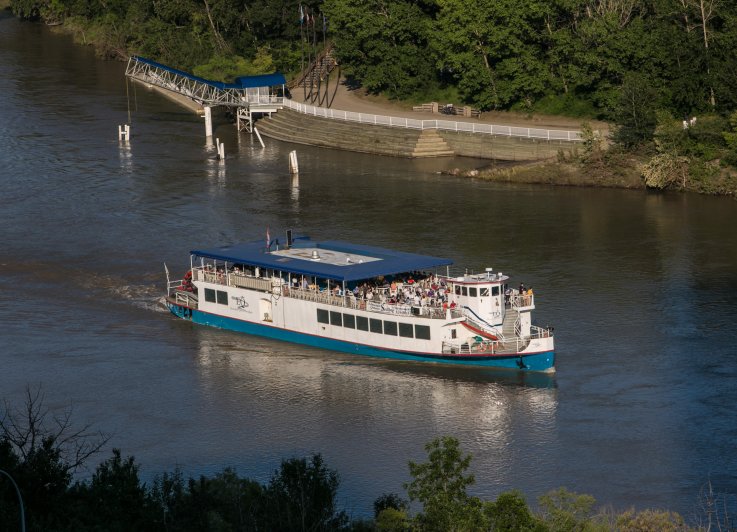 Hundreds Stranded on Riverboat Cruise Trapped by Extremely Strong Currents | World