Who Won Eurovision 2018 Contest? Everything to Know About Israeli Singer Netta Barzilai
The first semi-final of Eurovision 2019 is slated to air on YouTube on Tuesday night, putting a few lucky countries one step forward toward taking the trophy from 2018's winner, Israeli singer Netta Barzilai.
The 26-year-old won the trophy by gaining 529 points for Israel during last year's competition with her animated performance of "Toy," which later hit Billboard's Dance Club Songs chart in August 2018. The winning country was followed behind by Cyrpus, who gained 436 points in the song competition, and third place winner, Austria, with 342 points.
The success of her song through Eurovision launched Barzilai to instant super-stardom and has since resulted in two more singles from the singer, "Bassa Sababa," released in February, and "Nana Banana," which dropped on Friday. The catchy dance track centers is an ode to Barzilai living her best life and doing whatever she wants with her newfound fame. Although it is her third song overall, the "Nana Banana" marks her second English-speaking single since the release of "Toy."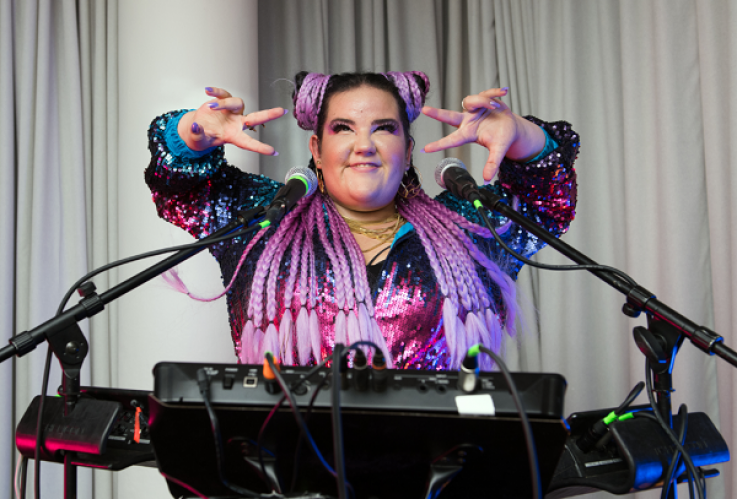 "I had an amazing year and I feel that everyone is trying to sum it up," Barzilai told Jerusalem Post on Friday. "'Nana Banana' is my personal summary, and I think that I want to take you into my bubble, to my most personal place over the past year."
While it's unclear if fans will hear "Nana Banana" or another one of Barzilai's songs during the first round of Eurovision's semi-final competition on Tuesday, she is expected to take the stage at during the competition, just ahead of a performance by Madonna.
The 64th annual Eurovision competition—hosted by model Bar Refaeli, Erez Tal, Assi Azar and Lucy Ayoub—will air live from Expo Tel Aviv in Isreal on Tuesday night at 9 p.m. local time. Forty-one countries will go head-to-head in the song competition, however, only 17 will battle it out on stage on Tuesday.
Who Won Eurovision 2018 Contest? Everything to Know About Israeli Singer Netta Barzilai | Culture