Israeli Embassy Tries to Blur Out Ambassador's Non-Kosher Lobster Lunch in Photo with Bolsonaro
When the Israeli embassy in Brazil posted a photo of Ambassador Yossi Shelley having lunch with Brazilian president Jair Bolsonaro, it was intended just to be another photo op.
But thanks to the sloppy editing of the pair's non-kosher lobster lunches, the picture has gone viral.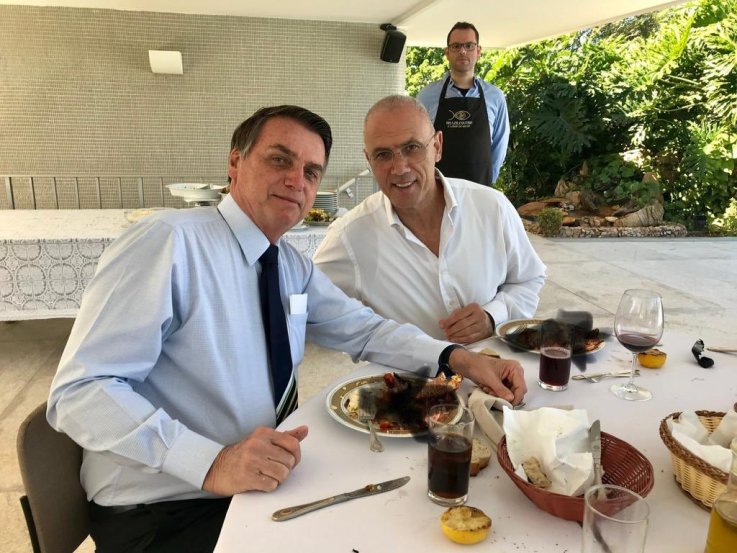 Before the Copa América soccer championship on Sunday, Shelley and Bolsonaro had lunch at a seafood restaurant in Brasilia, the capital city. The two dined on lobster—which proved controversial for both men. Bolsonaro was criticized because lobster is very expensive in Brazil, while Shelley was dinged for breaking Jewish dietary laws, which forbid eating lobster or other seafood without fins and scales.
The Israeli embassy's Twitter attempted to head the controversy off by editing out the lobster from the photo. But the hasty cross-out lead to jokes flying fast and furious on Twitter.
Israeli journalist Noa Landau tweeted in Hebrew that "Israel's Ambassador to Brazil needs Photoshop experts." Many users pasted in the lobster emoji to replace the crossed-out crustacean or uploaded lobster-related GIFs on the Twitter thread.
Perhaps the strangest thing about the controversy is that the lobster dishes could have easily been cropped out of the photograph altogether.
Israel and Brazil are diplomatically close: Not only was Shelley the first foreign diplomat to come to Brazil after Bolsonaro's election, but Prime Ministe Benjamin Netanyahu attended Bolsonaro's inauguration, becoming the first Israeli prime minister to visit Brazil.
In April, talking about the Holocaust, Bolsonaro said, "We can forgive, but we cannot forget. That quote is mine. Those that forget their past are sentenced not to have a future."
While many, including the Yad Vashem Holocaust memorial in Jerusalem, criticized Bolsonaro for decreeing that the Holocaust could be "forgiven," Shelley defended the president on Israeli army radio, saying, "[Bolsonaro] said forgiveness is a personal matter. He said people can forgive, he personally does not."
Earlier this year, Bolsonaro awarded Shelley the National Order of the Southern Cross, Brazil's highest honor for guests to the country.
In 2014, Netanyahu was the subject of a similar controversy when he accused of eating in a non-kosher restaurant on the Sabbath with casino owner Sheldon Adelson. During the same trip, it was also alleged that Netanyahu ate at Chart House, a famous lobster restaurant in Manhattan.

Netanyahu has denied that he had ever eaten non-kosher food.
Neither Shelley nor Israel's Ministry of Foreign Affairs had a comment about the photograph.
Israeli Embassy Tries to Blur Out Ambassador's Non-Kosher Lobster Lunch in Photo with Bolsonaro | World